Small things that bring me joy include seeing this on my iGoogle homepage this morning.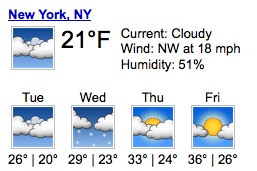 For those who are just popping in, I'm on the East Coast now!
I was a bit down at how cold it's been but looking at Chicagoland's weather makes me feel much better! It's nice not to be in the single digits
.
I was also happy to participate in #fitblog chat this evening! For those who don't know what #fitblog chat is, it's a chat regarding health and fitness that occurs on Twitter on Tuesday nights at 9pm EST. I believe that Katy began this chat but I'm not completely sure.  Anyways, it's a great way to meet other bloggers and to be inspired!
What are some small things that made you happy today
?